Larry Fitzgerald decision could be coming soon with Cardinals set to open training camp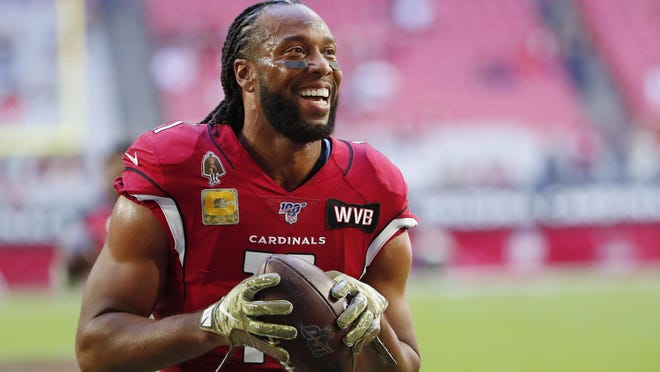 Now that the Suns' playoff ride is over, ending in a defeat to the Bucks last week in the NBA Finals, perhaps now is the time we'll get some clarity on Larry Fitzgerald's future intentions.
Will he return for an 18th NFL season with the Cardinals, who officially open training camp on Tuesday? Or might he decide to retire so he can pursue other interests full-time such as his minority ownership stake in the Suns and new business ventures?
Fitzgerald hasn't given anyone much of a hint as to his plans.
NFL Media's Jim Trotter recently spoke with Fitzgerald and during an appearance on the NFL Network, Trotter said Fitzgerald informed him there was nothing new to report and that he remains an unsigned, unrestricted free agent. When Trotter asked him if he was planning to sign with a team, Fitzgerald said, "I haven't decided on that."
Trotter, however, implied that the Cardinals are ready to make a deal whenever Fitzgerald, who turns 38 next month, is ready.
"What I do know," Trotter said, "is that the organization definitely would like to have him back if he wants to play."
"They like the energy he brings to the franchise," Trotter continued. "They like his presence in the locker room and here is the key part – they like his ability to make catches in critical situations. Obviously, he's not the same guy he was a decade ago, but in critical conditions they believe he comes up with the plays they need.
"So, from that standpoint, if he decides he wants to play again, there is a spot for him."
General Manager Steve Keim and coach Kliff Kingsbury have each proclaimed those sentiments publicly throughout the offseason. During a post-draft interview on SiriusXM Radio, Keim said of Fitzgerald, "If he tells us at some point that he's ready to go, we'll have a spot for him."
A day after the 2020 season ended, Kingsbury was already lobbying for a Fitzgerald return.
"We all want him back," he said at the time. "He knows that we all know he can still be a force on the field when he's feeling good and healthy and doing what he can do. … He's one of the best to ever play and still can play at an incredibly high level and we want him back."
Last season, though, was a difficult one for Fitzgerald in many ways. In addition to dealing with a painful groin injury late in the season, he contracted COVID-19 around Thanksgiving and spent a dozen days on the Reserve/COVID list as the virus sapped him of most of his energy and strength and caused him to lose nine pounds.
That experience, Fitzgerald said, made him "reevaluate things" and he even used his down time at home to update his last will and testament. They were scary times and he didn't waste any of it contemplating his future in football.
"It was more so the immediate future like, you know, staying alive and things of that nature," Fitzgerald said. "Football, and how long I play football, didn't really cross my mind."
Surely, though, it's been crossing his mind lately, especially now that his preoccupation with the Suns has become less mandatory on his part. Fitzgerald's motivation to continue playing is largely based on one primary thing — winning. If he believes the Cardinals are a playoff team and can contend for the Super Bowl, then that will weight favorably in his decision.
If, however, he feels his body just isn't up to it anymore and thinks the Cardinals only have a so-so chance of returning to the postseason, he might very well decide not to return at all. According to Keim, Fitzgerald expressed his approval of the many moves the team made this offseason, which included the additions of veterans such as defensive tackle J.J. Watt, center Rodney Hudson and wide receiver A.J. Green.
The Cardinals also drafted a receiver in Purdue's Rondale Moore, a second-round pick, and it's a little tough to figure out where Fitzgerald would be on a depth chart that also includes DeAndre Hopkins and Christian Kirk in addition to third-year pros Andy Isabella and KeeSean Johnson. Somewhere among that group, however, there must be room for an 11-time Pro Bowl performer and future first-ballot Hall of Famer.
The question is, what kind of contract makes sense for both sides? For the past five seasons, he's agreed to a series of one-year deals worth $11 million. Even if the Cardinals had more cap space than the $11.3 million they have available, according to OverTheCap.com, it's highly unlikely Arizona could pay Fitzgerald the kind of money he's been getting.
It would have to be substantially less or pro-rated over the next few seasons and even then, it might come at the expense of having to unload another veteran player and his salary. Surely, the Cardinals have a plan in mind. Just what that plan is remains unknown.
During his appearance on the NFL Network last week, Trotter implied that dollars could be what's holding up Fitzgerald's possible return, saying, "Money talks in these situations and Larry is a true businessman."
Despite the fame and fortune and all his records, Fitzgerald is also a man of few words when it comes to talking about himself. If the right contract doesn't suit him or he makes the decision to retire for reasons beyond that, there's a chance we won't hear anything about it from Fitzgerald.
"I might pull a Tim Duncan and just walk away and say nothing," he said a few years ago.
Duncan announced his retirement after 19 seasons with the Spurs through a simple press release through the team. It didn't include any canned quotes from Duncan, just eight paragraphs detailing his accomplishments.
Whatever fate Fitzgerald has in store, we'll find out whenever he or the team has something official to share — one way or another.
Have an opinion on the Arizona Cardinals? Reach McManaman at bob.mcmanaman@arizonarepublic.com and follow him on Twitter @azbobbymac. Listen to him live on Fox Sports 910-AM every Tuesday afternoon at 3:30 on Calling All Sports with Roc and Manuch.